MORE INFO?
WHAT IS SCION WOOD?
Scion wood is one year old wood taken from the outermost parts of the parent tree. It is approx. 15 to 20cm in length and approx. the same width as a pencil.
WHEN CAN I ORDER SCION WOOD?
Our s
cions are harvested from the trees in July / August each year (when the trees are dormant) & then posted to customers August / Early September.
Our cut off date for all scion orders is strictly 30th June.
This enables us to organise harvest, prepare labels etc. O
rders for scions are able to be placed at any time throughout the year, however orders are only posted to customers
during the dormant season - this is why we can only post scion wood once each year.

WHAT DO I RECEIVE WHEN I PURCHASE A SCION?
If you purchase '1 Scion Only' (see variety options) - the scion (cutting) you receive will be packaged in a sealed plastic bag. The scion wood will be packed with a small amount of moisture to maintain the humidity required for short-term storage.




HOW DO IT STORE THE SCION WHEN I RECEIVE IT?
While ideally it should be grafted onto your existing tree or rootstock as soon as you receive it in the mail, the scion may be stored effectively in the crisper section of the fridge for 1-2 months (or longer). Storage instructions are on the bag. The packaged scion should be kept in a cool place (fridge) where it will remain fresh and dormant until spring. Do not store scions with apples (or other ripening fruit), as apples emit ethylene gas, which encourages scion's buds to break dormancy.
HOW DO I 'USE' THE SCION WOOD?
Many fruit trees do not run true to type if their seed is planted. For this reason, they are most often propagated vegetatively by grafting scion wood onto rootstock or an existing tree.
Alternatively, scion wood may also be planted directly in the ground without grafting. In this way, roots will grow, a tree develops and it will remain true-to-type. Keep in mind though that because the rootstocks of the majority of apple varieties are susceptible to disease, most apple trees are grafted onto hardier rootstocks or existing trees.

If planting direct, you can either plant directly into the soil, or use the following method for greatest success:
STEP 1: Mix together 1 part sand & 1 part peat (coconut peat is good to use & readily available from Big W, Bunnings & other garden centres) & place into a pot.
STEP 2: Remove buds and leaves from the lower half of the scion wood, leaving at least two buds on top. Dip the cut end in rooting hormone, or use the organic alternative - honey. Simply boil 2 cups water & add 1 tablespoon honey. Leave to cool & then dip the scion wood into the solution & plant.
STEP 3: Place scion wood into the pot & press in firmly so that it stands upright on its own.
STEP 4: Water well.
STEP 5: Create a mini-greenhouse over the cutting by cutting the bottom from a clean, clear, two-liter plastic soda bottle, leaving the cap on, then setting the bottle over the scion wood in the pot. It is important to keep the bottle from touching the scion wood.
STEP 6: Place the pot in a warm location out of direct sunlight. When needed, remove the bottle cover and water. The scion should be kept evenly moist throughout the rooting phase. Roots should emerge within 2-3 weeks. The plant may then be moved to its permanent location in early spring taking care to keep its root ball intact.
WHEN IS THE BEST TIME TO GRAFT
THE SCION ONTO MY EXISTING TREE?
It is best to graft in the spring, from the time the buds of understock trees are beginning to open, until blossom time.


WHAT TREES CAN THE SCION WOOD BE GRAFTED ON TO?
Ideally, young, vigorous fruit trees up to 5 years old are best for grafting scion wood onto. Older apple and pear trees of almost any age can be grafted on to but with more care & different techniques.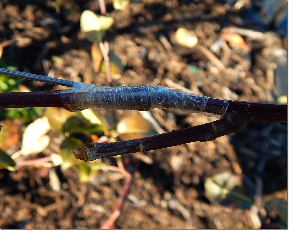 WHAT EQUIPMENT DO I NEED?
Secateurs - for making rough preliminary cuts
Grafting Knife (or a very sharp regular knife) - for making the grafting cuts
Grafting Tape - for securing the graft to the tree / rootstock

HOW DO I GRAFT THE SCION WOOD ONTO MY EXISTING TREE?
There are a number of grafting techniques which are able to be used when grafting scion wood onto an existing tree / rootstock. These include the 'Splice or Whip Graft', 'Wedge or Cleft Graft', 'Whip & Tongue Graft', 'Side Graft' or 'Bark Graft'.

If you are new to grafting, it is highly recommended that you purchase the book 'Grafting & Budding' by W. J. Lewis & D. McE Alexander. This book illustrates & discusses each of the above grafting techniques as well as provides other useful information.



Our Grafting Tool is another alternative for both the beginner and professional.

KEEPING OUR HEIRLOOM FRUIT VARIETIES ALIVE......

We are always looking for lost or undiscovered heirloom vegetable & fruit varieties.

Our roadsides are especially rich with wild fruit varieties that may have existed many years before and yet go largely unrecognised even though they may be passed by hundreds of times per day. For example, the 'Huonville Crab Apple' with scarlet red skin & red coloured flesh was discovered in Huonville, Tasmania. A huge old tree growing by the roadside, largely unnoticed, and yet producing such abundant & rich fruit of the most unusual variety.

Or perhaps there is a tree growing in the backyard of your house, or your grandmothers house or the old abandoned farmhouse down the road which seems to have been there for 100 years or more. Or in the city, perhaps down a back alley or behind a shop. They are all a part of our rich heritage just waiting to be rediscovered.

If you have any fruit trees which you feel may be of interest, please let us know. We'd love to hear from you, and it will help us in our efforts to keep these varieties alive.
---